Stacker
Designed to accommodate very short lots and orders. A cycle time of 9 seconds even for the minimum-size orders.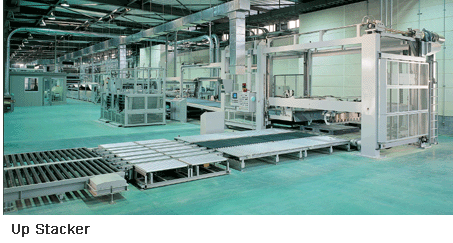 Specifications
We have three models to accommodate your specific production needs.
Model
Up Stacker
CUS3
Up Stacker
CUS2
Up Stacker
CD45
Continuous Machine Speed
250m/min. 300m/min. *1
Order Change Cicle Time
9 sec
13 sec
16 sec
Max. Paper Width
2,200mm
2,200mm
2,500mm
Min. Paper Width
Half of Max. Paper Width
Max. Stack Cutting Length
3,100mm or 3,600mmiSelectionj
Min. Stack Cutting Length
550mm
Window Creation Method
Conveyor Acceleration
Window Creation Mechanism
6 Spring Plates and Vacuum Conveyor
Sheet Stacking Method
Based at lifterfs center
Stacking Height
Specifiable by Number of Sheets
Machine Length
20,000mm`
21,000mm
19,000mm`
20,000mm
18,000mm`
19,500mm
*1 For the 300m/minute model, a double-separator conveyer is used. Top speeds may be limited by cut
@ lengths.
*2 We also have 85 down stacker installations.
Features(Up Stackerj
¥ Cycle time of 13 seconds.
¥ An 11-second cycle time for multi-order stacking.
Accommodates

consecutive small lots

running at

high speeds

¥ Center-based stacking.
¥ Sheet-alignment curtain at the entrance.
¥ Uses vector-inverter motors for the conveyor (no control steps).

Accurate stacking

The pressure amount of the spring plates is automatically controlled.
¥ Scrap-remover device that accommodates the top speed of 300m/min.

Accurate

separating at

high speeds

Unlike other brands, no pits are needed.

Installation costs are reduced
Field Service by Isowa
We are very proud to have service that is as good as our machines. Please click here to find out more about Isowafs field service.
¨Go to Service for details
Corrugators
Corrugator Equipment (Wet End)
Corrugator Equipment (Dry End)