Mill Roll Stands
With the new three-track system, setup time has been drastically reduced. The Isowa TMS Rollstand is designed for running wide variety of small lots.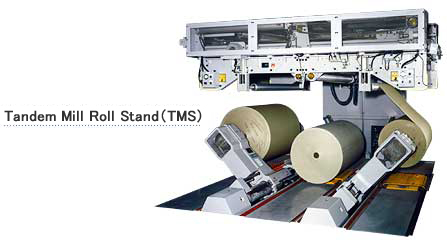 Specifications
Comparison between the small-footprint TMS and the TMS-L for large rolls.
Model
Tandem Mill Roll Stand
TMS
Tandem Mill Roll Stand
TMSL
Maximum Paper Width
1,800mm(2,000mm)
1,800 2,000 2,200 2,500mm
Maximum Paper Diameter
1,300mm
1,500mm
Minimum Paper Diameter
200mm
200mm
Machine Length in Running
Direction*
3,900mm
4,600mm
Number of Installation
99(Up to Dec. 31, 2005)
41(Up to Dec. 31, 2005)
* For a 2000mm-width machine
Features
Using three tracks, roll setup time is much shorter than those for a two-track system
Utilizing three tracks, each track has exclusively used for moving in or moving out

Roll setup time

(*1) has been drastically reduced

(by about 70 seconds).

The lifter moves up to align the core with the chucks.
Automatic chucking handles rolls with

a diameter as small as 200mm.

Automatic running alignment and butt roll rewinder are both standard equipment.

High quality, high performance production

even with the standard equipment.
The outside (moving in) tracks can be installed to the drive side or the operator side.
Installation and machine layout flexibly conforms to the facilities space requirements.
* "Roll setup time" = Duration from a splice to the completion of the next roll's setup.
Time Chart for Paper Roll Change
The time chart below shows the breakdown of the setup time reduction.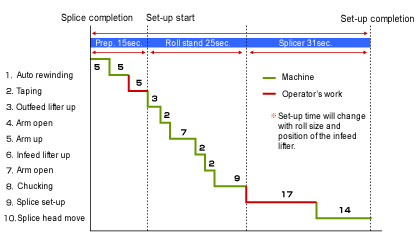 Customer's Voice
Read an actual comment by a customer with Tandem Mill Rollstands.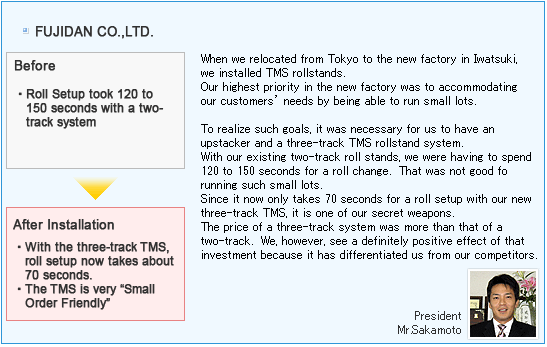 Structure・Video
Please see the automatic chucking illustration and a video of a TMS in actual operation.
| | |
| --- | --- |
| Comparison on Chucking Method | Video |
Conventional Type(BMS Series)
The conventional two-track system (BMS) is also available.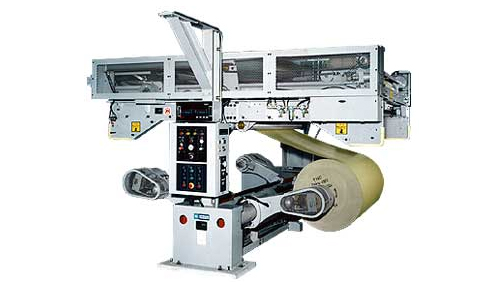 Field Service by Isowa
We are very proud to have service that is as good as our machines. Please click here to find out more about Isowa's field service.
→Go to Service for details
Corrugators
Corrugator Equipment (Wet End)
Corrugator Equipment (Dry End)