Singlefacers
Our high-precision, high-speed singlefacers. Since they are beltless, maintenance costs and resources can be reduced drastically.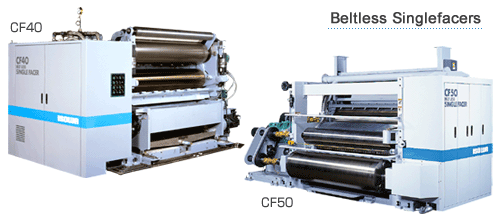 Specifications
In the CF40, our flagship model, the corrugating rolls are completely housed in a cartridge. This enables a flute change in ten to 15 minutes. In the narrower-width CF50, the same technologies are housed in a fixed-flute singlefacer frame.
Model
Beltless Singlefacer
CF40
Beltless Singlefacer
CF50
Max. Sheet Width
2,800mm
2,000mm
Top Production Speed
*1
400m/min.
300m/min.
Flute Change
›
iCartridge Typej
~
Overall Dimensions
iWidth~Length~Heightj
*2
5,710mm~3,050mm

~2,125mm

5,030mm~2,650mm

~2,000mm

Number of Installations
22
iUp to Dec. 31, 2005j
17
iUp to Dec. 31, 2005j
*1 Top production speeds may vary depending on surrounding equipment.
*2 For a 2000mm-width machine
Features
Our aim was to create a simple-concept singlefacer that offered high performance and low maintenance.
¥ Eliminated the costly consumable belt
¥ With the optional Tungsten-Carbide covered rolls, the life of the roll is multiplied.

Reduced maintenance costs

The initial bond is made by the gLight Nip Press.h

¦

High speeds even for heavy sheets.

Enlarged upper corrugaitng roll lengthens the contact between the roll and the single-faced web.

Same sheet strength

as the conventional pressure-roll mechanism.
Due to the reduced pressure amount of the Light Nip Press, vibration and noise is reduced.
Able to produce

high-quality sheets

The Light Nip Press

¦

concept uses only 25 to 33 percent of the pressure used in the conventional pressure-roll system.

Very light pressure lines

Less operator intervention is needed because of the Automatic Pressure Control.

Highly automated
¦Click here for Structure of the Light Nip Press Concept
Comparison with Belt Press Type
Beltless Typei'h'r'n'v'`j
Belt Press TypeiOtherj
BondingiHigh Speed,
Heavy Paperj

£
Sheet Quality
›
›
Pressure Mark
›

User Friendliness,
Labor Cost
›
›
Maintenance Cost,
Efficiency

›

A high-performance machine that is operator friendly. The beltless CF40 and CF50 enable reduced running costs. Because of the Light Nip Press, pressure lines are greatly reduced.
Customerfs Voice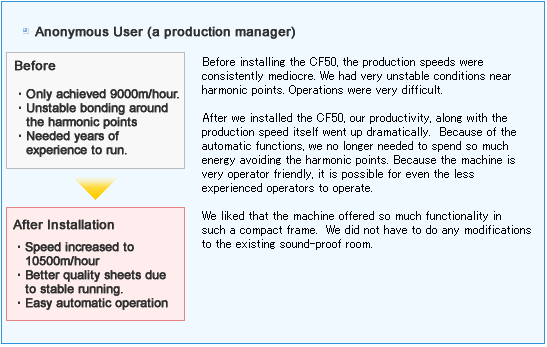 Structure
Check out the Isowa Singlefacersf simple, yet high performance design.
| | |
| --- | --- |
| Cartridge TypeiCF40j | Non-Cartridge TypeiCF50j |
Field Service by Isowa
We are very proud to have service that is as good as our machines. Please click here to find out more about Isowafs field service.
¨Go to Service for details
Corrugators
Corrugator Equipment (Wet End)
Corrugator Equipment (Dry End)