Doublefacers
Gun drilled type hot plate makes heat control easier. This enable to improve sheet quality from light paper to heavy paper.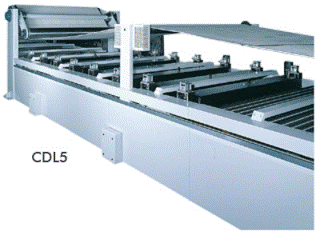 Specifications
You can use CDL5 regardless of the machine speed, machine width.
Model
Doublefacer
CDL5
Max. Production Speed
400m/min.
Max. Effective Paper Width
2,500mm
Performance
Max. Production Speed
250m/min.
350m/min.
Max. Machine Width
2,000mm
2,200mm
Approx. Machine Size
(Width x Sheet Flow Direction)
4,813mm~16,765mm
(13 Hot Plates)
5,013mm~18,690mm
(16 Hot Plates)
Above is just for your reference. We can supply up to 400m/min. , 2500mm.
Features
Heat Response

Less deformation on hot plates even when increasing/decreasing steam pressure.
Consistent surface temperature


ËProduction Speed-up such as Thick paper double wall

Quick change of surface temperature


ËLess warp on light sheet

Less strain


ËImprovement of sheet quality
Cross - section view of Hot Plate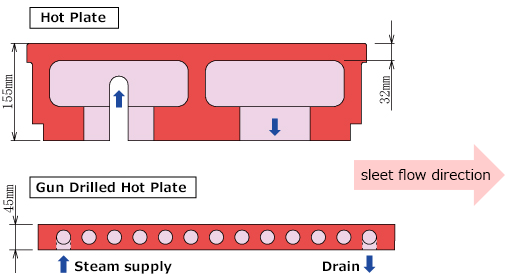 Steam flow in Gun Drilled Hot Plate

Field Service by Isowa
We are very proud to have service that is as good as our machines. Please click here to find out more about Isowafs field service.
¨Go to Service for details
Corrugators
Corrugator Equipment (Wet End)
Corrugator Equipment (Dry End)