CCTI(Corrugator Constant Tension Infeed)
Installed at the splicer exit point, the CCTI eliminates the tension variation at a splice resulting in more stable production.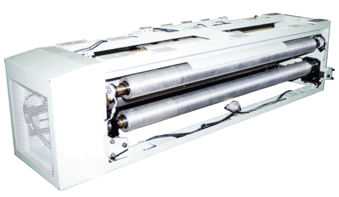 Specifications
A product unique to Isowa. This is a solution to an age-old problem derived to with Isowafs experience and know-how.
Model
CCTIiTension Control Devicej
Maximum Paper Speed
For Liner 400m/min.
For Medium 620m/min.
Applicable Paper Grade
115`440g/‡u
Overall Dimensions *
iWidth~Length~Heightj
3,270mm~750mm~620mm
Number of Installation
23unitsiUp to Dec. 31, 2005j
* For a 2000mm-width machine
Features
As corrugatorsf speeds increased over the years, so has the tension variation at splices. By eliminating the tension variation, the CCTI solves all problems associated with the tension variation.
Because there is no tension variation, c
The liner and medium wrap preheaters more consistently.

Bonding problems are eliminated.

The tension amount of the liner going into the single facer and the double facer are always within tolerance.

Warp is more easily controlled.

The tension amount of the medium going into the singlefacer is always within tolerance.

No more flute breakage or flute deformation

in the singlefacer
Eliminates walking.

No more wrinkling

on the liner or medium.
Can be installed on other brandsf splicers.

Easy upgrading even for customers with other brandsf splicers.
Simple Operation, Stability and Safety
CCTI Tension Comparison Graph
Tension was measured before and after the CCTI
Customerfs Voice
A comment from a CCTI customer.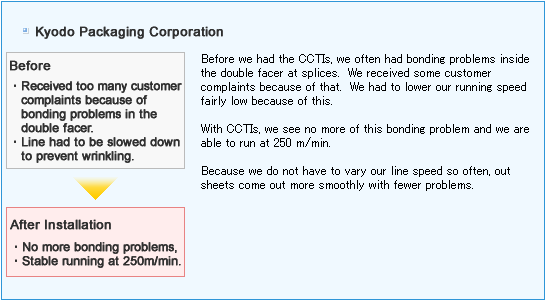 Structure
Watch how the CCTI absorbs tension variations.
| | |
| --- | --- |
| Overall View | Structure@iPatentedj |
Field Service by Isowa
We are very proud to have service that is as good as our machines. Please click here to find out more about Isowafs field service.
¨Go to Service for details
Corrugators
Corrugator Equipment (Wet End)
Corrugator Equipment (Dry End)