Glue Machines
Even amount of glue application helps to reduce glue consumption dramatically and to produce stable sheet quality.
Contact bars helps solve flute crushing caliper loss and warping problems.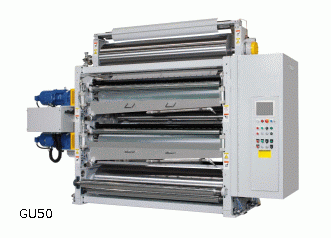 Specifications
By eliminating the conventional rider roll, the Isowa Glue Machines solved a lot of old problems. We offer three different models to suit your specific production needs.
Model
Glue Machine
GU50
Glue Machine
GUD6
Glue Machine
GU10
Max. Paper Width
2,000mm
2,500mm
2,500mm
Max. Production Speed
300m/min.
300m/min.
350m/min.
Dia. of Glue Roll
270mm
350mm
320mm
Dia. of Doctor Roll
170mm
210mm
210mm
Machine Dimension *1
(Length~Width~Height)
1,312mm
~4,200mm
~2,697mm
1,767mm
~4,194mm
~2,706mm
1,540mm
~4,256mm
~2,975mm
Number of Installatoins *2
262unitsiUp to Dec. 2005j
*1 In case of 2,000mm Max. Paper Width Machine
*2 Including of GUD4AGUD5AGUD6AGUD8AGU50 and GU10
Features
Unlike the rider roll, the Application Bar only applies a small amount of pressure. No gap controlling is necessary between the glue roll and the Application Bar

Sheet strength is increased

, making it less likely for flutes to be crushed.
Since flute crushing is greatly reduced, only the proper amount of glue is applied to the flute tip, resulting in good, consistent pressure lines.

Sheet warping is reduced.

Equipped with independent drive.

The Glue Roll speed is automatically controlled

based on web combination.
Glue gap control system is standard equipment.

The best glue gap is always selected

for the sheet combination and production speed.
Internal Structure
See the difference between the conventional rider roll concept and the Application Bar concept.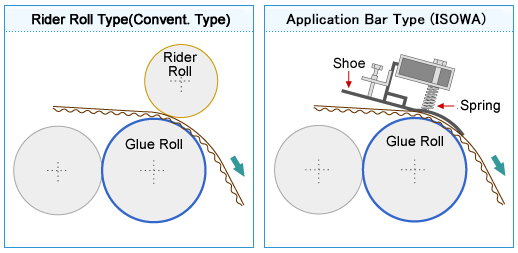 Field Service by Isowa
We are very proud to have service that is as good as our machines. Please click here to find out more about Isowafs field service.
¨Go to Service for details
Corrugators
Corrugator Equipment (Wet End)
Corrugator Equipment (Dry End)