Hyper Trim Shear
Prevents jamups by continuously cutting the outgoing and incoming trim.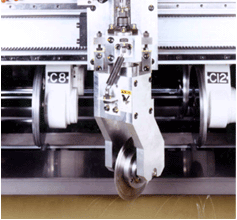 Number of Installation
There is a large customer base for this very unique product.
| Model | Number of Installation |
| --- | --- |
| HSS4@Hyper Trim Shear | 83 (Up to Dec.31,2007) |
| HSS5@Hyper Trim Changer | 26 (Up to Dec.31,2007) |
FeaturesiHSS5j
The scrap at an order change is much shorter with the Isowa Hyper Trim Shear.
Free-oscillating knife moving very fast in the width direction.

0.8m

of scrap at

200m/min.

Cuts the trim only.
Almost

100% of trim into the duct.

Can be installed on other makesf slitter scorers.

¦

Can achieve lower loss

without changing the slitter scorer.
* Reduction of loss may be smaller in some manufacturersf slitter scorers.
Customerfs Voice
A comment from a Hyper Trim Shear customer. (Also installed an HSS4 at the same time.)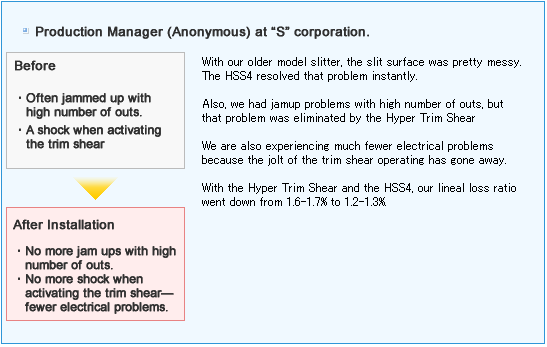 Video of Trim Cutting
See the Hyper Trim Shear in action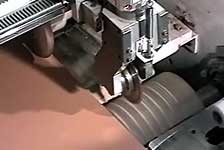 Click here to play video
iWMVA5MBj
Field Service by Isowa
We are very proud to have service that is as good as our machines. Please click here to find out more about Isowafs field service.
¨Go to Service for details
Corrugators
Corrugator Equipment (Wet End)
Corrugator Equipment (Dry End)