Automatic Ink Viscosity Controller
All you do is set the desired viscosity level.
The Automatic Ink Viscosity Controller will keep the ink viscosity at that level.
AND, it can be retrofitted to other brandsf printers also !
Number of installation
Model
Automatic Ink Viscosity Controller
Number of installation
64setsiincluding 11 sets of other makerfs machinej
iUp to Dec. 2005j
Features
Installed right in line of an existing ink circuit

No cumbersome operations

Water is added continuously to the desired viscosity

Accuracy within 0.2 seconds

Current Viscosity Display

Continuously monitor the viscosity

at each printer.
A warning light will notify of abnormalities
The unit gets washed automatically at ink changes (because it is inline)

No fussy daily maintenance

Can be installed on other makes' printers

No need for a large investment

to eliminate viscosity issues.
Structure
| | |
| --- | --- |
| Overall View | Structure@iPatentedj |
Customerfs Voice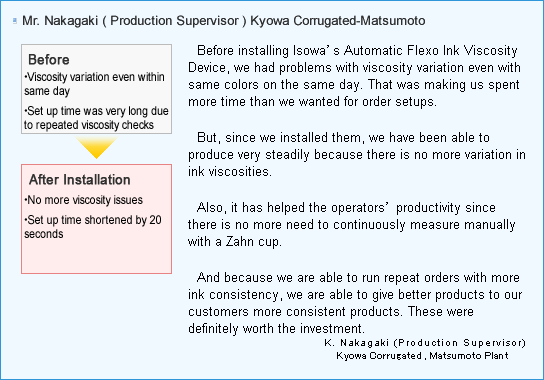 Field Service by Isowa
We are very proud to have service that is as good as our machines. Please click here to find out more about Isowafs field service.
¨Go to Service for details