Flexo Rotary Die Cutter
The Isowa Flexo Rotary Die Cutter is a high-precision die cutter that utilizes vacuum transfer and independent drives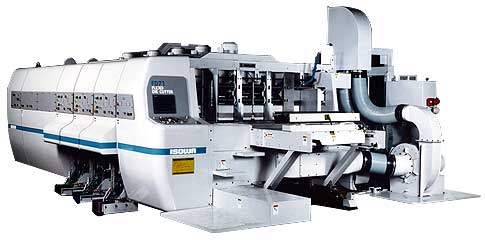 Specifications
Model
Flexo Rotary Die Cutter@iSoft cut systemjFD71
Machine production speed
180Blanks/min.
Max. size of Blank
1,540mm~2,070mm
Max. printing size
1,540mm~1,980mm
Max. Die Cut size
1,540mm~2,050mm
Min. size of Blank
500mm~650mm
Machine size *1
ilength~widthj
8,163mm~5,370m
Number of installation *2
4@iUp to Dec. 2007j
*1 With three print units
*2 Including the FD77 model.
Features
These features make this a truly high-precision machine.
EUses peristaltic pumps for ink circulation.
EUses width-direction ink scrapers in addition to air for ink cleanup.

Ink loss during wash-up is drastically reduced.

All Vacuum Transfer

More accurate transfer

through the machine as well as

no sheet crushing

because of pull rollers.
The independent-drive die cutter reduces vibration between sections

More stable

printing and registration.
Field Service by Isowa
We are very proud to have service that is as good as our machines. Please click here to find out more about Isowafs field service.
¨Go to Service for details