Our network of engineers work together for every field service visit. Total customer satisfaction has always been our goal.
Global Service Network
Our global network of engineers assure fast service.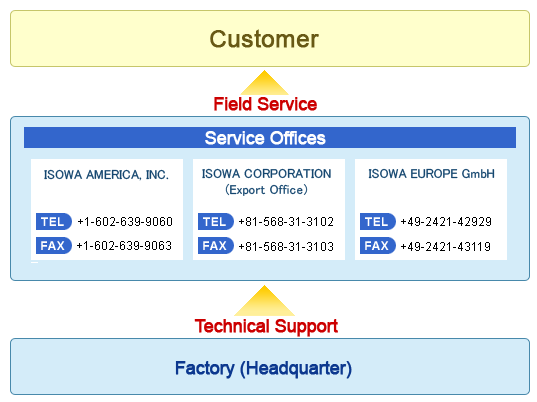 Preventive Maintenance and Emergency Maintenance
Proactive and preventive maintenance is always more economical than reactive repairs. Our goal in service is to enable the most economical equipment upkeep for our customers.
Key Points of Maintenance
Good machine maintenance always begins with a daily reminder of the 5 Ss.
The foundation of good machine maintenance is knowing the conditions of the machinery when it is running well.
Good machine maintenance also takes in externally measured data like temperature, vibration and noises.
Good machine maintenance requires knowing wear tendencies of each part and proactively dealing with replacements.
Necessity is the mother of invention, but proactive maintenance is the mother of high efficiency.
Good machine maintenance requires detailed knowledge of machine composition and control.
Good machine maintenance is noticing the precursors (noise, vibration, heat, etc.) to a breakdown.
Good machine maintenance is keeping the appropriate number and variety of spare parts.
---